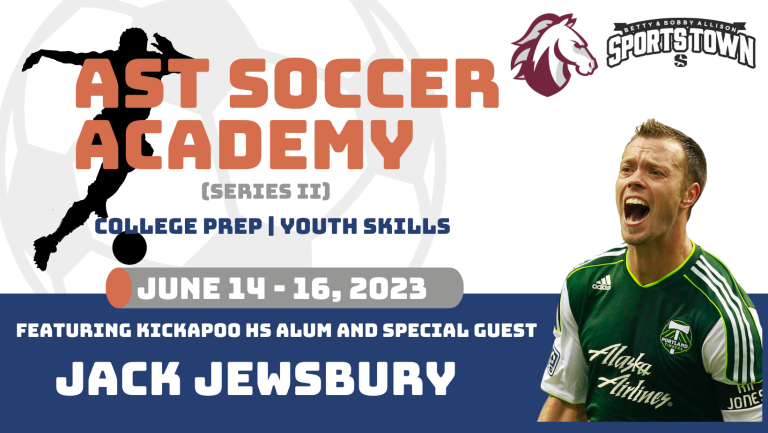 AST Soccer Academy (Series II) - College Prep & Youth Skills
Dates: June 14 – 16, 2023
Time: Youth Skills – 9am – 12:30pm daily | College Prep – 9am – 12:30pm daily
Ages: Youth Skills – 4 – 14 years | College Prep – 9th – 12th grade (younger players with advanced skills are encouraged to play up and register for the College Prep session).
Fees: Youth Skills – $50 | College Prep – $150
Overview: Allison SportsTown has partnered with Evangel University Men's Soccer to bring you the AST Soccer Academy (Series II) – College Prep & Youth Skills. Players registered for the Youth Skills session will have the opportunity to enhance their soccer skills by receiving instruction from area soccer experts. The mixture of skill drills and small-sided games will put players skills to the test as they increase their knowledge and understanding of the game. Players registered for the College Prep Session will not only have a platform to fine tune their skills through drills and small-sided games, but also learn the ins and outs of what it takes to play soccer at the collegiate level. Participants will gain an understanding of what collegiate coaches look for in a player and understand the recruiting process and how to take the first steps to playing at a higher level.   
In addition to the Youth Skills and College Prep sessions, retired professional soccer player and Springfield, Mo., native, Jack Jewsbury will be in attendance for question and answer and to sign autographs for all age groups! You don't want to miss this exciting opportunity to enhance your skills and meet with a Springfield Legend. 
$10 lunch option provided upon check-in.

One.Soccer Schools Elite Day Camp 2023
Join us May 30 – June 2, 2023 for Missouri's only One Soccer Schools Summer Camp!
2023 Summer Program Info:
May 30 – June 2 Springfield, MO @ Allison SportsTown
These 5 day programs are structured and professional with an innovative youth curriculum. The emphasis is on playing, learning, improving and having FUN! We have a qualified, international coaching staff that is knowledgable and passionate about making a difference in each athlete's life – both on and off the field.
one. Elite Soccer Camps are an excellent way to support your child's growth, development, and self-confidence. Please register online at www.onesoccerschools.com or call the office at 805-845-6801.
Click below to register:
Juniors – Ages 5-8, 8:30-12:00noon Monday – Friday
2023 Curriculum and video below:
Ball Mastery & Juggling
Dribbling (1v1's | 2v1's)
Going 2 Goal
SAQ
Technique
Transition Exercises
Rondos (possession games)
Footvolley
Small Sided Games (3v3, 4v4-6v6)
Top 5 Reasons To Choose one. Soccer Schools For Your Child This Summer!
1. Healthy, Modern and Innovative Teaching Philosophy
With our Attention to Detail approach, coaches break down each step of a technique so the player understands how, when and where it will be used in the game. Our Fail Your Way to Success philosophy encourages players to not be afraid to fail and how to identify and fix their mistakes so the athlete can build confidence and find success – Work ethic, teaching/learning & Enjoyment!

2. Coaching Staff & one. Curriculum
Highly qualified American and International coaching staff that possess dynamic personalities with a passion and fuel to develop players to be their best. Innovative, challenging and fun curriculum focused on game related techniques, the decision making process, and how these two topics blend together in a game's competitive cauldron.

3. Focused Training Environment
Our staff employs the one. teaching method: Communicate clearly, demonstrate clearly/precisely, be patient and allow the player to practice-learn by doing. Inspiring Players to Take Control of Their Dreams- The one. environment is unlike any other, and through our innovative curriculum, dynamic staff, and teaching concepts, players are inspired to take control of their own destiny and learn what it takes to BE A CHAMPION both on and off the field.

4. Experienced Professional Camp Organization
one. is celebrating its 24th year training young athletes all across the United States. During this time, thousands of players have benefitted immensely both on and off the field from our coaching, mentoring and training. We have students who have continued their careers on the college and professional levels including the US National Teams, MLS, European and South American Clubs. Our players return year after year to refine and enhance their individual abilities, increase their passion and confidence for the game and to learn and be challenged.

5. Professional Players Package
Each player receives a professional style jersey, shorts, socks along with a Pro Match Ball.